Thursday, December 29, 2005
Kid is doing well. Orthopedic doctor was in- they are going to be putting him in a harness to help his hips- hopefully that will work, if not will be another surgery.
link
| posted by Beth at 12/29/2005 08:40:00 PM
0 comments
Wednesday, December 28, 2005
I wanna make this
Tristan so needs a bib with these designs...
link
| posted by Beth at 12/28/2005 11:57:00 PM
0 comments
As the photo's show, Tristan is back doing Billi treatments- other then that he is doing well. They've adjusted the antibiotics, he's off the vent, blood sugar is good, etc. Now if we could do something about his drool problem (well actually it's due to the tube, but he's a kid, they all drool). They did an echo of his hips- so the PT will know what she/ he has to work with. He has started to poop a bit, but he's not hooked to the ostomy bag yet. They are also going to try to feed him soon.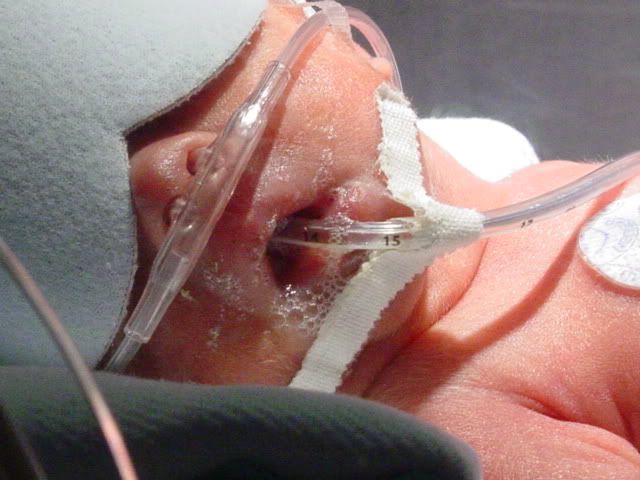 link
| posted by Beth at 12/28/2005 09:09:00 PM
0 comments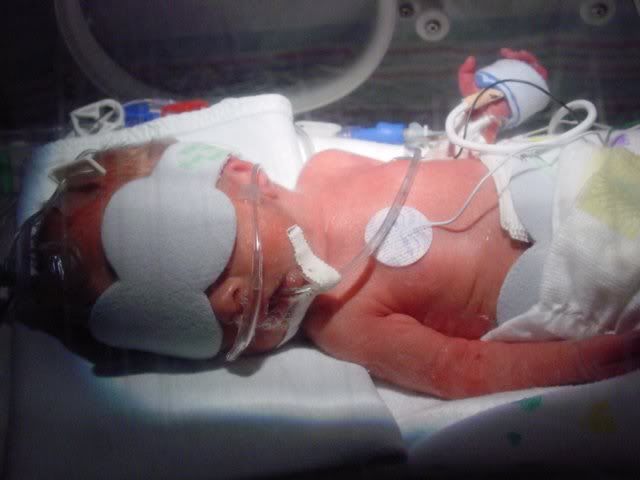 link
| posted by Beth at 12/28/2005 09:00:00 PM
0 comments
Tuesday, December 27, 2005
no news is good news
Well, heading in at 3ish... Ash talked to hospital earlier and he's doing ok.
link
| posted by Beth at 12/27/2005 02:02:00 PM
1 comments
Monday, December 26, 2005
Started at one hospital, ended the night at another. Wound up with one of those premie conditions that required surgery and the hospital he was at only has a medical NICU. Something really scary and sucky about surgery being done on a 2lb 5oz person. Hell, our cat weighs more then the kid. Surgery went as well as can be expected- can't fix it all now (he's just too small), so he's going to be on an ostomy bag until he's a year old/ 20ish lbs. They had to give him more blood this morning- oh and the cocktail of antibotics...
link
| posted by Beth at 12/26/2005 11:13:00 AM
0 comments
Long Day
This kid is sooooo gonna be in trouble when he gets older. Got to hospital around 5ish- he was showing sighs of having problems. By 10 PM he was being transferred to Children's Hospital for surgery. He had developed Necrotizing Enterocolitis . Dr. Glick believes that the hole is in a part of the colon that is very low- so basically Tristan will have the ostomy bag until he is a year old/ 20ish lbs. It's going to be a long road and now we have to get used to being at a new (to us) hospital.
link
| posted by Beth at 12/26/2005 02:20:00 AM
0 comments
Friday, December 23, 2005
Hi! Not best photo but forgot to clear my camera out before taking it to hospital and the other camera is a pita to work with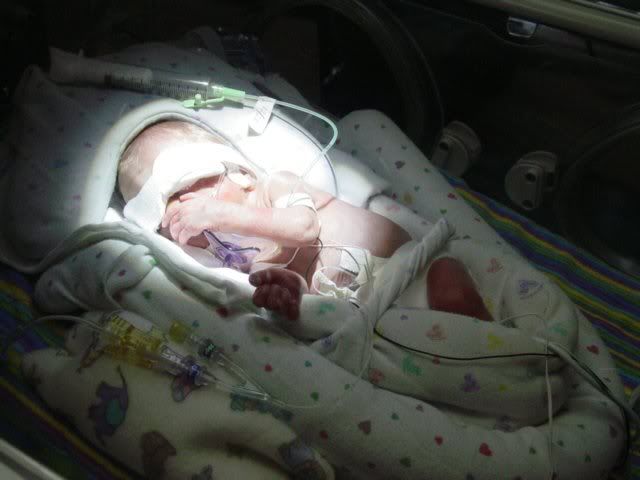 link
| posted by Beth at 12/23/2005 10:08:00 PM
0 comments
Tuesday, December 20, 2005
Been born... gonna be updating soon enough
link
| posted by Beth at 12/20/2005 09:25:00 PM
1 comments